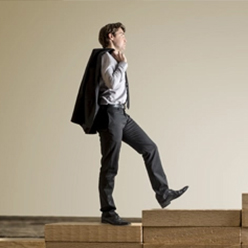 During our formative years, we often hear the question, 'What will you be when you grow up?'. So, naturally, your focus is on what kind of job you will do, and that's what you will be. The thing is, how we spend a minimum of 40 hours a week is more than just a job. To maintain our sanity, we need more; we need a career.
A career speaks to the innate need for progression, growth, challenge, and fulfilment. That's where career coaches come in. What is a career coach? What does a career coach do? A career coach is someone who can help you elevate your job to a career that is right for you.
What is the Definition of a Career Coach?
A career coach is someone who helps you advance your career and transform life. There may be numerous ways to improve your career, but whether those ways are right for you is a different matter altogether. A career coach will ask you about yourself, your career, your values, and your goals so that they can advise and guide you.
Your career coach is the person who will give you invaluable feedback and guidance that few others can. Career coaches have professional insight, which enables them to help you navigate your career and make the right professional changes to move forward.
What do Career Coaches do?
With expert knowledge specific to career coaching, career coaches can guide you in many ways.
Career coaches can help you decide what to do next by

assessing new opportunities

which are different to what you may have previously experienced.

Our careers lead us along paths which can be rocky at times, leaving us somewhat damaged and even wounded. A career coach can help move forward from these experiences and

reset the course to success

.

A career coach can help you

create a resume or CV

which will grab the attention of employers by highlighting your skillset and gearing your CV specifically towards the job you're looking for.

Interviews yield a daunting set of challenges, but a career coach can guide you through them, to help you

confidently present yourself

and make a good impression.

If it's not a new job you're looking for, a career coach can help you grow your career at your current workplace. They'll guide you in changing your role or

getting a promotion

.
The Tasks and Duties of a Career Coach
Each individual seeking career coaching will have unique needs, and a good career coach will identify those needs and address them. Your coach will help you set goals, teach you crucial career growth skills, and guide you along the way. There is a range of tasks and duties to work through during your coaching sessions. It's important to remember that your coach will help you with these tasks and duties, but they cannot do all the work for you; you need to be an active participant in the process.
Typically, you'll start by

discussing your values, interests

, and the direction you want to take in your career.

Your career coach will help you

create a list of positions

on which you can focus. 

They will help you improve your CV and flesh out your

LinkedIn page

to attract the right kind of attention.

Your career coach will advise you on how to approach your boss and

get meetings

with the right people.

A career coach can help you

develop your interview skills

and identify any faux pas so you can get further along in the job-seeking process.

You will learn about following up after interviews and how it's best done to move to the next phase of the process or

get feedback

.

Job offers are notoriously tricky, and the job search doesn't end with the job offer. A career coach will help you clarify both parties' expectations and

negotiate the position's salary and perks

.
What Makes a Good Career Coach?
To start with, a good career coach is equipped with the skills and experience required to help you on your career growth journey. Before hiring a coach, vet them thoroughly, make sure they are certified, have clocked the hours, and have a proven track record of happy clients. Or better than qualifications, secure a Career Coach who has actually created the success you want. Then you are learning from someone who has done it, not just someone who has learnt the theory through a certification!
The right coach has a passion for what they do; they are familiar with the corporate and operational environments you are involved in or want to be involved in; and very importantly, the two of you 'click'. There must be a connection and a common understanding in order for you to build rapport and get the most from your time together.
Why Would You Need a Career Coach?
There are many reasons to see a career coach; almost anyone can benefit from a career coach. People see career coaches when they feel that their careers have stagnated. You may need help getting a promotion or remaining relevant. You could benefit from a career coach if you're working towards a promotion or developing a more long-term career plan.
Career coaches provide support for those making drastic changes, such as going freelance or transferring to a new country or city. A career coach is your go-to advisor if you're looking for an entirely different career or going through major life changes. Even if you're struggling to network, a career coach can help you.
How to Decide on a Career Coach
Deciding on a Career Coach is relatively easy - the coach is someone who has been where you are and has achieved what you want!  Speak to some of their previous clients to get a feel for the progress in their careers or watch testimonial videos.  
If seeing a career coach has even briefly crossed your mind, that may be your cue to look for one. So, why not speak to someone who can help you improve your career? With Katie-Jeyn Romeyn, one of Australia's top career coaches, you can accelerate your career using the Career Success Formula™. Reach out to us, and get the most out of your career.